Jules

Mitchell
United States of America
Hatha, Power, Restorative
UDAYA Yoga & Fitness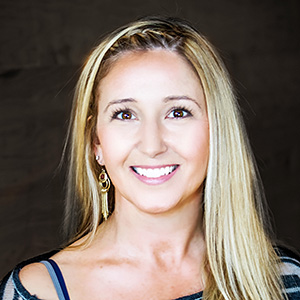 Jules Mitchell MS, CMT, RYT is a Las Vegas-based yoga teacher, educator, and massage therapist. Her unique approach incorporates her extensive study in biomechanics with the modern application of yoga asana to help teachers develop their craft and empower them with education. Jules' methods intend to achieve ease in movement through deliberate loading, thus her teachings integrate numerous modalities, balancing the somatic aspects of yoga with the most current exercise science. She leads workshops and continuing education courses worldwide, providing yoga schools with the most current research in biomechanics.
It is Jules's passion to share the most useful and applicable pieces of science with the yoga community to build confidence in students and teachers by having a well-grounded understanding of the science behind the how and why of asana. Jules regularly contributes to teacher trainings, as well as leads workshops and courses worldwide. She also assists private clients in achieving all types of movement goals, anything from simply aging well to sport specific outcomes.
As adjunct faculty at ASU, she serves as a yoga consultant on various research studies measuring the effects of yoga therapy on special populations including pregnant women, women with depressive symptoms associated with perinatal loss, and cancer patients. Her future research goals include the effects of asana on tissue adaptation and bridging the gap between exercise science and yoga research.
Jules is the author of Yoga Biomechanics: Stretching Redefined available now through Handspring Publishing.
Explore programs by Jules Mitchell; Yoga Biomechanics in Action and Active Restoration, as well as her 170+ classes & tutorials.