Selina

Gullery
Bulgaria
Prana Vinyasa®, Ashtanga
UDAYA Yoga & Fitness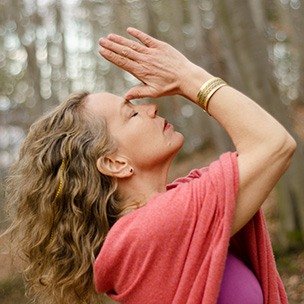 Selina Gullery (BA) is a qualified linguist, yoga teacher, intuitive cook and student
of life. She walks the path of yoga to connect with her body and through it with
the rhythms of nature and the divine that resides in all things. Yoga for her is a
holistic approach to leading a conscious and responsible life, in tune with
ourselves, with each other, our communities, and the world around us. Here yoga
practice is informed with her passion for psychology, somatic movement, music,
poetry and traditional Chinese practices of movement and their underlying
healing properties. Selina rant the yoga teacher training at the Paracelsus
Naturopath School in Kempten, Germany for 7 year. She is part of the teaching
curriculum for Shiva Rea's Prana Vinyasa affiliate teacher trainings and
Micheline Berry's Liquid Asana teacher trainings. She spends most of her time
either in the forest, on her yoga mat, in deep meditation or travelling to teach
from her home base in Sofia, Bulgaria.
Training and further education with Swami Samarpanananda (Bihar School of
Yoga), Shiva Rea, Twee Merrigan, Simon Park (Prana Vinyasa Yoga), Michael
Shabort (Ashtanga Yoga), Barbra Hoh (Anusara Yoga), Christopher Thompkins
(Kashmiri Shaivism), Sally Kempton (meditation), Mark Whitwell (Heart of Yoga),
Ronam Tang (TCM, Tai Chi), Stefanie Hahnzog (Body Mind Centering), and
others.
E-RHT 200, RYT 500, YACP (Yoga Alliance Continuing Education Provider),
BDY (German Yoga Teacher Alliance).