Punnu

Singh Wasu
Bali, Indonesia
Bhakti, Meditation
UDAYA Yoga & Fitness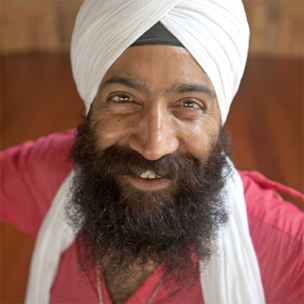 Punnu Singh Wasu is an Indian vocalist, musician, songwriter and multi-instrumentalist. He was born and raised in Hyderabad into a family that has a true love for Kirtan (devotional music) and spirituality. He began studying harmonium and singing at the tender age of 5. At age 10, he moved on to learning the Hindustani (Indian Classical Music) while traveling with his father throughout India singing the beautiful verses of Kirtan. Later on, his knowledge of mandolin and tabla became his focal point. Nowadays he performs Kirtan, Xtatic Kirtan, Indian Fusion, Indian Classical music, Sufi, Bollywood music as well as Sound Healing around the world. He has his own Kirtan Academy "Bhakti Bliss" and also leads music workshops in combination with yoga & meditation.
Punnu's musical style is a mix of "East meets West" – Indian Fusion. The concerts he leads often build from a slow, meditative tempo to a high paced catharsis. He has a remarkably soulful voice that touches the hearts of most casual listeners, and it is common for his audience to clap their hands or stand up and dance during his concerts.
Currently, Punnu Singh Wasu resides in Bali where he offers meditation, Kirtan and blissful sound healing journeys. He also leads Spiritual Awakening Courses, Meditation Workshops, 100hr & 200hr Meditation Teacher Trainings and Reiki Trainings (level I – Grand Master) regularly. Furthermore, he offers private holistic healing sessions and spiritual counseling daily.