Arezu

Kaywanfar
United States of America
Core, Kundalini, Vinyasa
UDAYA Yoga & Fitness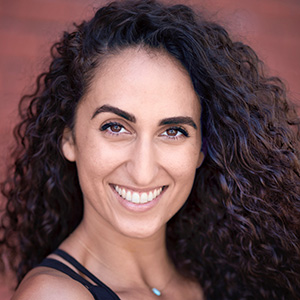 Arezu Kaywanfar has been a Yogini since 1998 and it has, without a doubt, shaped her into the woman she is today. Ever since the age of 7, she's been attending Siddha Yoga Meditation Center with Gurumayi and practicing Kundalini Yoga with, Guru Singh. By the age of 14, she was the youngest to be certified as a Kundalini Yoga teacher by the Kundalini Research Institute (KRI). Continuing on her journey to teach, at the age of 15, she found herself called to attend Miri Piri Academy, a Sikh International School in Amritsar, India where she practiced yoga with masters from around the world and participated in various yoga and meditation intensives. After her experience in India, she attended George Washington University in Washington DC, where she had the opportunity to teach at many government institutions (World Bank, State Department & IMF), as well as the University's sport teams who noticed great improvements in their performance due to Arezu's yoga instruction.
Upon completion of her degree in International Affairs and Humanitarian Studies, Arezu returned home to Los Angeles and followed the words of her teacher: "love your work and you will never work another day in your life." Due to her unwavering devotion and love for teaching yoga, Arezu decided to do what she loves most: helping others through teaching and inspiring them to connect within and follow their purpose/passions as well. Her brand, InspireZu, is all about finding ways to inspire one another through mind and body practices. She emphasizes working out as well as working in. She is also a Personal Trainer, Boxing, Aqua and Zumba Instructor but yoga remains her main focus and passion. She now teaches over 11 different modalities of yoga from Kundalini to Core Power to Restorative; however, she is most known for her trademarked fusion class, "Kundalini Core Flow," which combines most her lineages.
Outside of her professional passion, Arezu is a strong advocate of community service. She is an Ambassador for Athleta (Gap) and the Alzheimer's Research and Prevention Foundation (ARPF), as well as ARPF's Director of Special Events. ARPF teaches a powerful Kundalini meditation that has been scientifically researched (by UCLA) to cure, reverse and help aid in preventing memory loss, as well as many other benefits. She is also a certified Yoga for Youth teacher for underprivileged and incarcerated youth in Los Angeles.
Through many different avenues, Arezu Kaywanfar has been able to combine her varied skills, wealth of knowledge, love for teaching, global thirst for traveling, and the sentiment to "give back" to live a truly well-rounded, full-bodied life. All of which is incorporated into her lifestyle brand, InspireZu.