Daniela

Garza Rios
Bali, Indonesia
Meditation, Vinyasa, Yin
UDAYA Yoga & Fitness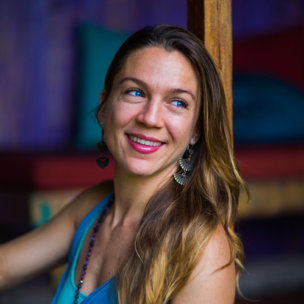 Originally based in Mexico, World Traveler, Daniela Garza Rios has been immersed in bodywork and spiritual practice since 2002. She is the founder of the School of Healing Arts, and SOHA Yoga Teacher Trainings, and Co-Founder and Spiritual Director of Sutra Yoga Studio, based in Monterrey, Mexico.
Born from a family of Alternative Medicine Healers, Daniela has become certified in Osteopathy & Bioenergetics, Medical Magnet Therapy, Traditional Chinese Medicine, amongst other Healing Arts. In Yoga, she teaches Mandala Vinyasa Yoga, Prana Flow, Krama Yoga, Tantra Yoga, Acroyoga, and Thai Massage. Freedom, Wisdom, and Love gravitate around the practices that she shares with her students.
Daniela is known for her highly positive and grounded personality. A devoted practice and a sense of ancient wisdom are present through her teachings. Her work as a yoga and holistic practitioner inspires very clear technique and clear understanding behind the teachings. Her career as a young gymnast and mover has helped her master the body in all its layers, so her technique is brilliant and easy to understand. She emphasizes acquiring awareness and sensitivity on how to listen, feel, and support each individual back to the Self. Guiding the practitioner into a natural state of flow, her classes are powerfully deep, as well as sensitive and slow. She has a very balanced way of harmonizing yin and yang energies.
Currently based in Bali, teaching at The Yoga Barn in Ubud, Daniela offers daily classes, workshops, retreats, festivals, and teacher trainings, including the Healing Arts, Mandala Vinyasa Flow, Movement and Handstand Classes.
Learn more about her upcoming 200hrs and 300hrs programs on her website!